aCUBE
The aCUBE system is characterized by visual perfection, modernity and simple contours resembling a cube. This proposal fits perfectly with the current trends in architecture and window joinery. It provides exactly the effect that investors expect: simple, minimalist windows, sometimes reminiscent of aluminum joinery. It is intended for the construction of windows, balcony and entrance doors.
The aCUBE system is distinguished by very good stability, perfect tightness, high thermal and acoustic insulation. All thanks to the multi-chamber structure of the profiles and the reliable system of the central gasket. The design of the third seal effectively blocks the heat flow. Many people are looking for a minimalist style, and thanks to the small depth of development, the aCUBE windows can be installed in both new buildings and historic buildings.
The aCUBE system is an excellent proposition for architects and developers because it maintains high thermal parameters at a moderate price.
Advantages of aCUBE:
a system adapted to the construction of windows, entrance doors and balcony doors,
simple contours from the outside and inside of the window,
high stability thanks to optimal steel reinforcements,
high acoustic insulation,
maximum glazing thickness up to 48 mm or 50 mm when using STV®,
a wide range of veneers, including smooth and matt,
possibility of finishing with exclusive, wood-like RealWood® foils,
protection of natural resources - profile core made of recycled material.


Installation depth 74 mm

Number of chambers 6

Glazing package Ug=0,5

Permeation coefficient Uw=0,80*

Fittings Winkhaus
*for the reference window 1230x1480 mm
EQUIPMENT STANDARD:
white color is based on RAL9016,

the basic color of seals, even for white windows, is black,
closed steel in the frame,
WINKHAUS window fittings according to well-known and proven AWILUX standards,
glazing beads always straight with a bend of almost 90 degrees,
handles with straight lines, stylistically referring to glazing beads,
standard black glass inter-pane frames,
welding of V-type corners,
ecological core.
Other equipment standards and orders remain unchanged.
AVAILABLE COLOURS
BEST VENEERS
The colors from the BEST group guarantee a quick delivery date and a preferential price. The following colors are available:

RICH COLOUR PALETTE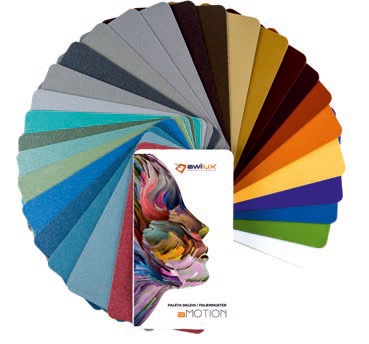 Customers can also choose a colour from a wide range of veneers, in which they will surely find the one that perfectly matches their project.
In the aCUBE system, you can also choose the colors from the offer REALWOOD
EXAMPLES