Advantages of sliding patio doors
The current trends in interior design and the willingness to be open to the surroundings have made us increasingly decide to buy sliding doors.
Sliding patio doors, popularly known as sliders, make it possible to create a smooth transition between the interior of the house and the terrace or garden. They are perfect for large rooms, but also for those where every square meter matters.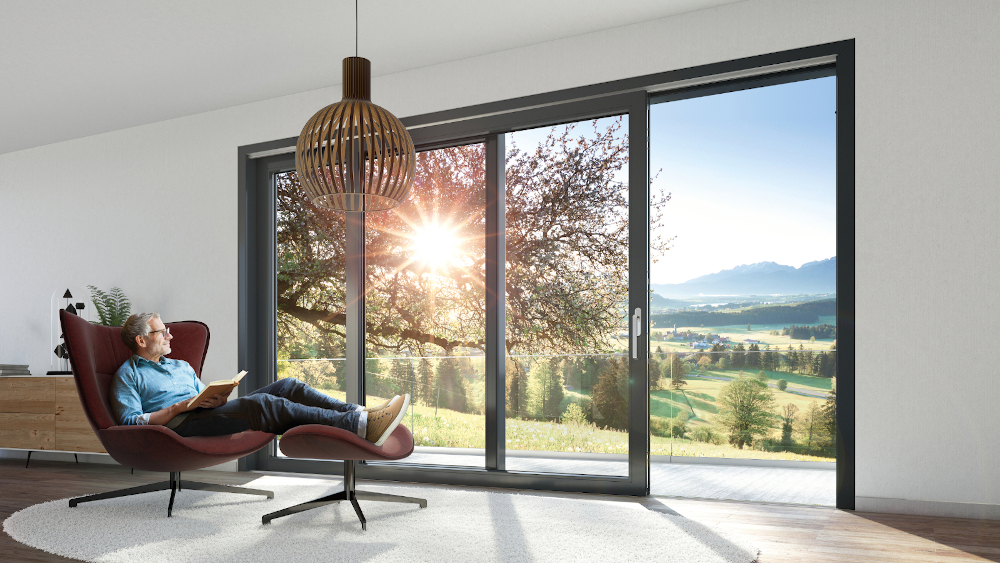 Advantage No. 1 - no threshold
In sliding systems, the threshold is embedded in the floor. Its elevation above level of the floor is only a few millimeters, thanks to which, after sliding the door open, we get an almost smooth transition between two surfaces.
Advantage number 2 - style
Large glazing is an attribute of modern homes. Therefore, more and more often we meet real estates whose owners have put on large windows or patio doors.
The possibility of hiding all the mechanisms and extremely narrow profiles make it possible to obtain the effect of a glass wall that can be opened at any time. In turn, greater exposure to natural light means also brighter and visually more spacious rooms.
Advantage No. 3 - technology and safety
The aesthetic value of sliding doors is of course their greatest advantage. However, the undeniable advantage of sliding doors is also advanced technological solutions. Sliding doors ensure quick and comfortable operation. These solutions can also be equipped with anti-burglary fittings.
Advantage No. 4 – size
Sliding doors offer almost unlimited possibilities of designing open architecture saturated with light. Despite its huge size, sliding doors require practically no additional space to be fully opened. This is a huge advantage and makes it easier to arrange the interior. When deciding to buy sliding doors, it is worth taking advantage of the offer and advice of experienced companies. The maximum width of a PVC sliding window is 6.5 meters!
Advantage No. 5 - home modernization
Investors more and more often decide to choose sliding doors when renovating old buildings. Large glazing gives the facilities a more modern character.
Advantage No. 6 - better view
Building a dream house is preceded by choosing the perfect plot. Often, investors decide to buy land open to a forest or lake. It is worth admiring beautiful views not only in warm months.
The use of sliding doors allows you to additionally emphasize the advantages of the surroundings, almost letting them into the interior of the building, providing great views at any time of the year.
AVAILABLE SYSTEMS: