Schüco LivIngSlide – comfortable combination of interior and surroundings
Rooms full of light and phenomenal views? All this is possible thanks to the Schüco LivIngSlide PVC lift and slide door system. With a few simple movements, the terrace becomes an extension of the living room.
The Schüco LivIngSlide system offers many design possibilities, both in new and modernized buildings.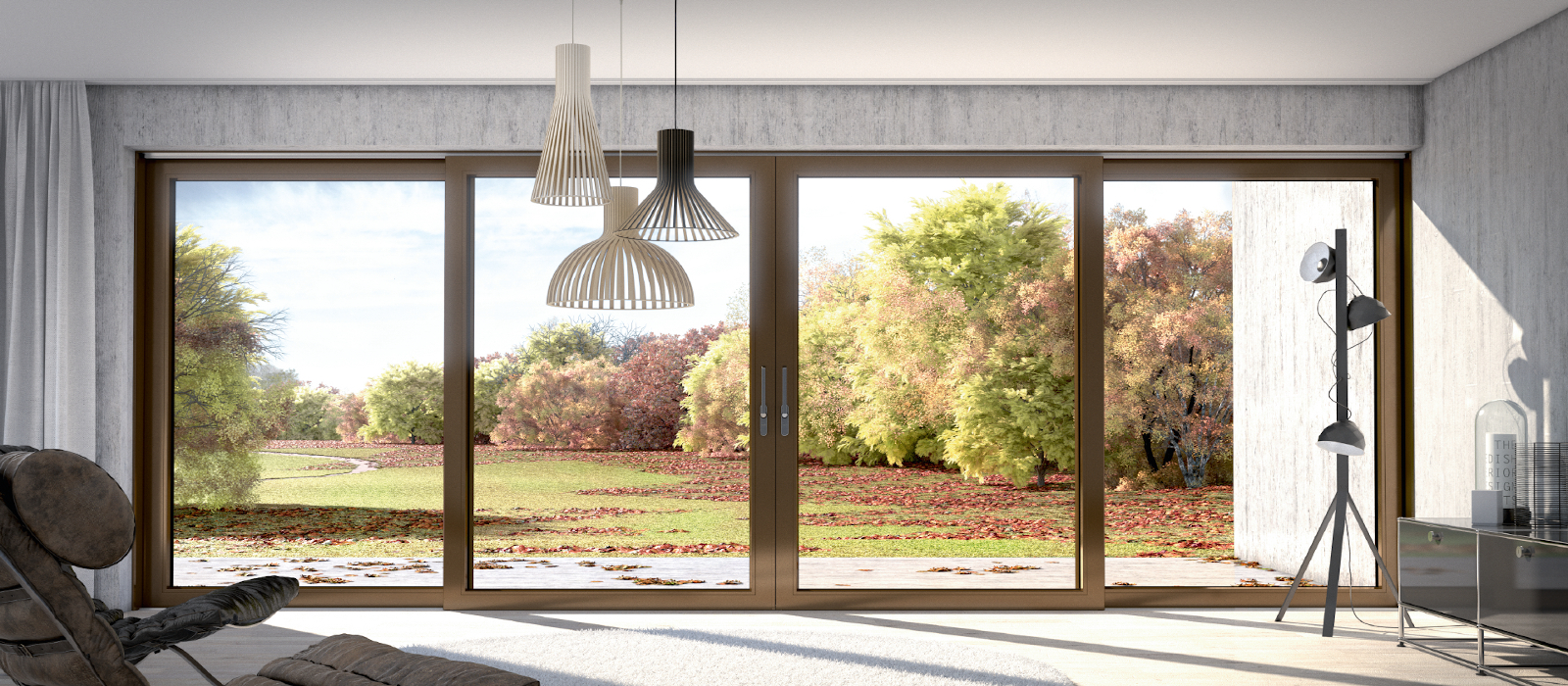 The system has wings with a depth of 82 mm and is dimensionally consistent with the Schüco LivIng system, which provides access to a wide range of additional profiles, glazing beads and glazing accessories. The leaf profile uses heat-weldable EPDM gaskets. After welding, they are soft in the inside corners and ensure optimal tightness and therefore warmth.
The excellent thermal isolation is also confirmed by a thermally isolated threshold and aluminum reinforcement profiles in the window frame, as well as a special thermal break integrated with additional isolations, which prevents the formation of thermal bridges, water condensation and the formation of drafts.
The system is also distinguished by an attractive design. The narrow central contact zone of the profiles ensures maximum illumination of the interior. Schüco LivIngSlide extends the design freedom with a systemic surface finish concept and a wide range of colors.
System advantages:
Protection against noise thanks to optimal sound isolation;
Maximum energy efficiency according to clever design;
Maximum ease of use - even with large components;
Increased security thanks to burglary resistance up to RC2 class;
Maintenance and care are kept to a minimum according to the use of durable materials

Installation depth 194 mm

Number of chambers 7

Glazing package Ug=0,6

Permeation coefficient Uw=0,77*

Fittings Hautau
*For a reference window with dimensions of 3500x2300mm.
As an option, the Schüco LivIngSlide Panorama version is available, which has maximum narrow profiles. In the fixed part, the frame profile is hidden in the threshold, thanks to which the glass almost reaches the floor. As a result, LivingSlide Panorama guarantees 10% more light than the basic version of the system.
See the system presentation: